Custom 12 Panel Footbag Planning Specifications
This 12 panel footbag is one of the more popular professional quality footbags today. It is ideal for performing the most advanced tricks due to loosely filled sand and soft suede type material construction. Durable enough to last thousands of hours of play. Promotional Product ready!
This footbag consists of 12 pentagonal shaped panels sewn together by hand. You choose fabric panel colors and ink colors for your silk-screened logo. Screen printing done prior to sewing. Use the drawing to the left to plan logo placement. Normal production time 3-5 weeks, rush service available.
Base fabric panel colors may be chosen from standard Pantone colors as can the logo ink colors. It is recommended to select four different fabric colors for the most visually stunning footbag, and one should be a lighter color fabric choice (like white) so the logo will contrast well against the fabric.
Included in the base product price is a one color logo on one silk screened panel, however, you may silk screen addition panels up to all 12 panels for additional charges. Likewise, you may select additional ink colors for your logos for additional charges, including up to 4 colors on each logo.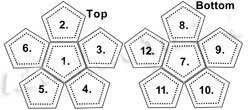 Color Selection: We will attempt to match your specific PMS color for panel and ink colors, however, we can not promise an exact match. Usually we come within 2 PMS color numbers.




We recommend selecting 4 colors that contrast or match well. Each color will be used 3 times on the footbag but won't touch each other (eg. panels 2, 4 & 12) for optimum visual results. This is best as a colorful footbag.




In choosing your ink color, we recommend to select primary colors that offer good contrast on light colored panels, such as Black, Blue or Red. Or provide PMS colors and we will try to match. Additionally we have the capability to print full color process images which can be applied to any or all panels of the footbag. Our sales team and graphics staff are more than happy to assist you in designing a stunning fully customized promotional footbag.




Please provide artwork to Adventure Trading. Artwork must be rendered as vector clip art. No blends or shading except on full color process images. Emailed digital proof is provided to ensure footbag is made with complete satisfaction for the customer's needs. FOB Seattle. Provide digital artwork in .JPG, .TIF, .EPS or .PDF formats, make your file sizes smaller than 2 Mb. If using EPS or PDF make sure to outline all fonts.


>> View other custom footbag options.