New! Mini Bean Bag Chairs for Cell Phones
This is a miniature version of a real bean bag chair to place one's cell phone. Loosely filled for that perfect feel to comfortably hold any size phone or mp3 player.

Choice of filling either plastic pellets or sand. Sand is significantly heavier and will act like a paperweight.
Great for gifts or corporate giveaways, these mini bean bag chairs are fun and easily customizable.
Add your logo or message to the front, sides, or back. You can even add stripes or completely brand it up! Experienced design team is here to help you create the most memorable product for your needs.

Fabric Options:
BC10: Vinyl Material. Choice of primary colors. Shiny look.
BC25: Nubuck Ultrasuede Material. Same as found on microfleece furniture.
BC30: Antiqued Leather Material. Real leather conditioned to look old.
Microfleece Colors: A wide range of colors.
Leather colors: Brown, light brown, dark brown, black, dark maroon.
Vinyl Colors: White, Black, Blue PMS 287, Red PMS 199, Orange PMS 1585, Green PMS 567, Brown PMS 1605, Brown PMS 490, Yellow PMS 128, Pink PMS 203, Maroon PMS 511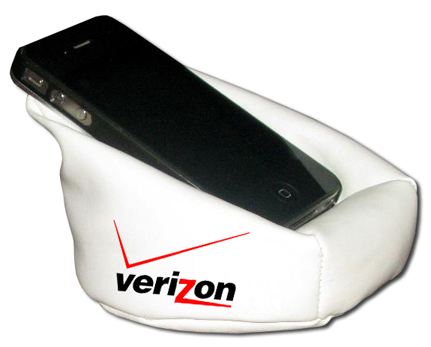 Add your logo or fully customize this amazing new product!
Cost includes one color screen print. $0.10 extra for each additional logo placement. $0.05 for each additional logo color. Contact us for pricing on full coverage graphics guidelines on this product.
For Leather, embossing is available.
Please contact us for larger quantities and shipping discounts.
Standard production time is 4-6 weeks. Rush service available.
Contact us for Pricing!